Connect your favourite tools with your Kinnovis account and take your business to the next level.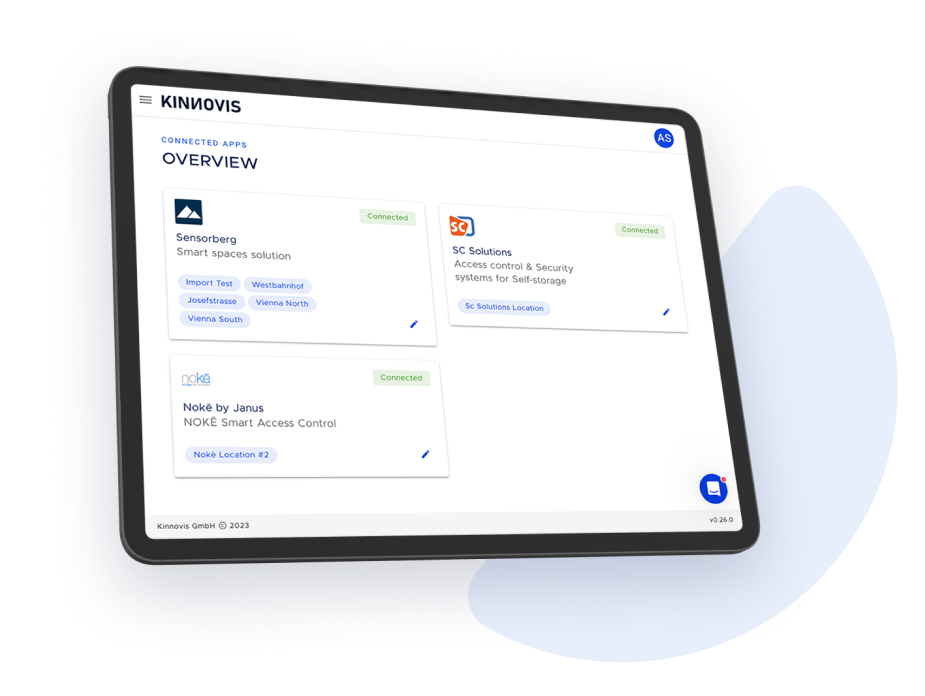 Integration with your smart entry provider means you can control and automate everyone that comes in and out of your facility.

Smart entry from Europe, serving storage, co-working and offices.

Specialist access management, providing high-quality control systems from the Netherlands.

A Bluetooth electronic lock with total access control. Nokē is a global smart entry supplier.

Alongside planning and consultancy services, Sedisto offers digital access control for the self-storage industry.

Rubik provides affordable tenant access with mechanical combination padlocks.

Bearbox provides automatic overlocking, CCTV and features required for running unstaffed facilities.

Surveillance systems for self-storage security and access control in the UK.

Access management coupled with move-in kiosks and third party customer phone support services.
Make payment reconciliation a breeze by syncing your Kinnovis account and customer invoicing with your favourite accounting software.

Xero's accounting software also handles a number of other business needs, including VAT returns, expense claims and bill paying.

Growing across continental Europe, BMD offers software designed to be used by businesses and tax consultants alike.

DATEV offers software for accounting, human resources, business consulting & tax calculations.

Business Central (formerly Navision) offers comprehensive business management solutions.
Ensure the security of your facility and your tenants' units by verifying the identity of each new customer – without the need to store their personal details anywhere.
Stripe Identity is built on top of technology that Stripe uses to verify users and can check authentic ID documents in over 100 countries.
Criipto delivers robust authentication processes that won't compromise your booking flow or move-in process.
Through their software and APIs, Stripe enables Kinnovis to automate all your customers' online reservations, invoicing, billing and delinquencies.
From single-site operators to large enterprises, integrating Kinnovis with Stripe will mean you can reduce costs and save time.

Eitek offers automated controls for customer access, lighting, ventilation and sound systems which can be controlled remotely from any device.
Book an
online demo

with us